4 Tips for Awesome Custom Window Graphics
6/9/2021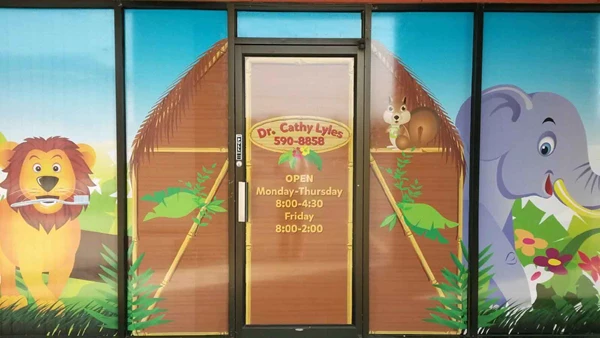 Let's Start A Conversation:
Marketing materials are the tools companies use to introduce their brand to customers and prospects. There are many different types of marketing materials; each one can be used in multiple ways depending on your business's needs. These materials can take many different forms, from digital assets to traditional printed materials such as brochures, business cards, direct mail materials, letterheads, manuals, and more.
Each marketing piece should always include your business logo, a phone number or email address, and website. However, it should have many other important elements such as your brand's colours, a powerful headline, and a clear call-to-action.
There are perfect marketing materials for every occasion. Each marketing collateral piece serves as a communication tool between your business and its customers; this is why brand consistency and professionalism are so important. Utilizing high-quality marketing materials provides legitimacy to your business, showing you are a professional whose products and services can be trusted. Choosing the right format to reach your audience can sometimes be the hardest part, but it is also the most important one.
How to choose the right marketing material?
Every marketing material you send out reflects on your company. Here's a quick guide to help you chose the right one:
Brochures: Ideal for promoting your products or services in detail. Their multi-fold presentation allows you to use layouts that balance well a combination of images and informational text. They have great sticking power, as people are likely to hang on to them for extended periods of time.
Business Cards: One of the most traditional types of marketing material. However, they continue to be one of the most valuable tools to use for person-to-person networking. Business cards continue to hold an important value in professional settings. According to this research, 72% of people judge a company based on their business cards' quality, and 39% of people would not do business with a company if they had a bad-looking business card.
Promotional Flyer: Normally used to promote simple services, events, or communicate quick and simple messages. Flyers have a short lifespan; people who receive them often read the message and quickly dispose of them after. This is why they are often printed on low-cost papers, making them one of the most affordable marketing materials to produce.
Invitations: If you are hosting an event or offering a limited-time sale, invitations are the perfect way to reach your audience. Personalized business invitation cards have the power of making your customers feel included, special, and recognized.
Postcards: These traditional marketing materials continue to be one of the most used direct mail strategies for businesses. The most common use for postcards is to promote special offers or seasonal discounts. Their simple two-sided sheet layout, unique shape, and colorful presentation make them ideal to quickly capture your audience's attention.
Catalogues: While printed catalogues have significantly declined, there are still companies who find them effective. While newer catalogues are significantly smaller, they are a great way to expose customers to new offerings and entice them to visit physical or digital stores.
There are many different types of marketing collateral available to help your business reach its goals. If your marketing materials are inconsistent or outdated, they are not helping your business.
Contact your local KKP experts and let us show you how marketing materials can increase your profits without breaking your budget.
Fast. Local. Personal. For over 35 years, KKP has been supplying a comprehensive range of high-quality print, design, and sign services as well as marketing assistance to Canadian busin
Back