Annual Report Design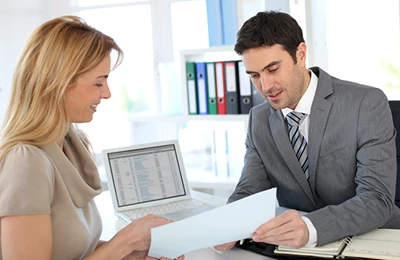 Let KKP help you design a professional and creative annual report!

The purpose of annual reports is to provide a comprehensive summary detailing important information about your company's activities, and financial performance. These reports can have many different presentations. The most common presentation type for an annual report is the traditional booklet style, containing a lot of technical jargon, tables filled with numbers, and a few graphs. An annual report doesn't have to be just about boring charts, graphs, and numbers. As a platform your annual report has the power to influence and inspire readers to learn, invest and take action.

Dedicating time and effort to improve the overall design of your annual report can help increase the readability, engagement, and branding value of this document. A great annual report should be able to narrate the compelling story of your company's past, present, and future. This report needs to convey your aspirations and goals, your company's organizational culture and your brand values.

Every part of this report should accurately describe important developments that happened throughout the year. It should show successes, learning opportunities, milestones, and highlight important changes. Use your annual report as a marketing piece to help your employees and shareholders have a clearer understanding of your business.

Our designers know what it takes to make your annual report design work hard for your business. With cutting-edge graphic design, our experts can take your average executive report and turn it into an inspiring annual report. At KKP we can help you present your company's story in a format that will talk to your target audience. We can help you work through the practicalities of choosing fonts, colours, imagery and the finishing touches that will transform the reader's experience.

Selection

These are some of the different types of reports our team has experience designing:
Annuals Reports
Interim Reports
Investor Relations
Financial Statements
White Papers
The KKP team will make sure your annual report adheres to the report design best practices. Our goal will be to guarantee in includes the most important design and functionality elements a professionally customized report should have.

Important Annual Report Design Elements
A custom layout with a good balance between the images and the text in the report.
Brand related colors throughout the whole report to help achieve a cohesive look.
Titles and typographic hierarchy to make the report easy to navigate.
Graphics, charts and other visual elements to make the information easy to digest.
Good use of whitespace throughout the report to help the design look clean, polished, and pleasing for the readers.
Unifying elements throughout the report to generate consistency in the annual report design, such as page numbers, brand colors, watermarks, and many other custom elements used thought the annual report.
Use of space differentiators to break up the monotony of the text content. This refers to adding elements like blocks of color, borders, or lines.
Include a good contents table matching the hierarchy of the titles through the report.
An appendix to include additional supporting information for a good annual report design.
A personalized and attractive cover to help generate a positive impression of the report.
No matter what industry you are in, an annual report is a branding opportunity. We'll incorporate your team's personality in the designs and make sure it accurately showcases your brand. To find out how we can help you make a difference, contact us. Our team has experience helping our clients design the annual reports at very affordable prices. Let our KKP creative team help you design a stellar report!