Marketing Collateral Design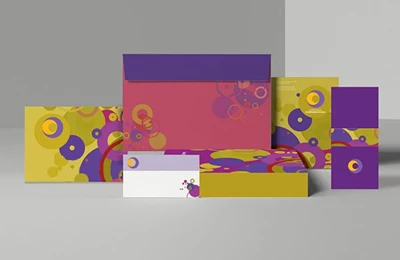 Enhance your sales and maintain your branding with consistent, creative collateral design.
Originally used to describe brochures and other printed materials developed to support the sale of products and services, marketing collateral today often encompasses printed advertising, mailers, business cards and other office stationery.
Any element you are using to support your brand's identity can be considered a piece of marketing collateral. Given its importance to any business, organization or nonprofit, great graphic design for your sales collateral is paramount.
Collateral in the form of a business card, brochure or mailer offers an opportunity for you to make that all-important first impression with prospective customers. If the design fails to capture their attention, you may not get a second chance to make a positive impact.
Creatively imagined across your collection of media, your collateral design must showcase your brand identity, hold the interest of key audiences, increase the perceived value of your offering, and establish trust in your operation.
The best collateral design supports the sales process among potential customers. This is accomplished by an attractive presentation of features and benefits in text supported by photos or illustrations. It concludes with a compelling call-to-action that recommends a product purchase, service appointment, store visit, or similar action on behalf of your reader.
However, the design of your marketing collateral will also play an important part in your company. One of the best ways to help your organization feel connected and reinforce pride in your brand is to make smart use of branded materials internally.
Excellence in graphic design for collateral materials isn't always easy to achieve, but it is readily found — at KKP. Consistency counts. Our team of expert designers will help your branding remain reliably uniform across all forms of marketing collateral — from brochures to catalogues and more.
Whether creating new brochures and mailers for an upcoming marketing campaign, refreshing the look of existing materials, or beginning from scratch with an introductory postcard and trifold, rely on our graphic design and printing pros to create and produce the collateral you need to succeed.
Each piece of marketing collateral will play an important role and serve a specific purpose. The best marketing campaigns include different marketing collateral for each stage of the buyer's journey. Choose from our wide selection of offerings, and reach out to our team if you are looking for something custom not listed on our website.
Advertising
Brochures
Business cards
Business stationery
Calendars
Catalogues
Direct mail and postcards
Folders
Flyers
Newsletters
Portfolio
Presentation folders
Promotional campaigns
Sales and information sheets
Trifolds (i.e., rack brochures or pocket folders)
Check out our most recent articles about marketing collateral: