Personalized Mailings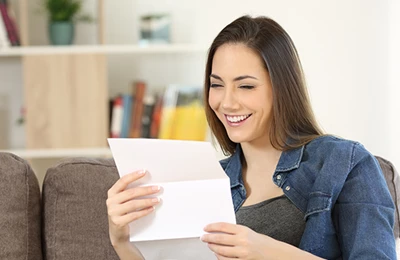 Personalize your direct mail offerings to get the best results!
Personalized mailings are not limited to just addressing your audience by name. Today's advancements in variable data printing (VDP) enable you to go far beyond "Dear Sir or Madam" to personalize your letters, postcards and other direct mail pieces. There is a lot more you can do to improve your open rates, engagement, and targeting.
In a 1:1 Lab Case Study conducted by the Conference Board of Canada and published by Xerox Canada, direct mail response rates doubled with a personalized campaign compared to non-personalized messages. Another study by Canada Post found 87% of Canadians open addressed mail.
Variable data printing makes it possible. VDP allows you to alter the text and graphics within a mailing piece. The final product will be customized according to your customer database — producing unique messages for each individual on your mailing list.
Personalizing your direct mailings can be done with:
Images: The visual component can be customized based on your contact's preferences. When it comes to advertising, different images can have a different appeal and trigger certain emotions. Images can change based on age, gender or even interests. The KKP team can help guide you when it's time to select the personalized content for your direct mail campaigns.
Offers: Send personalized offers based on your customer's purchase history. Tailoring your offers based on a customer's preferences can significantly increase the effectiveness of your campaigns. Reach your target audience at the right time and with the right products.
Special Messaging: Impress the recipients of your mailing pieces by personalizing more than just their name. Adapt the copy of your message based on additional information you have about them, such as their city of residence, gender, and even birthdate.
Personalized QR codes and URLs: Segment your lists based on any criteria relevant to your business and track your recipient's behaviour and open rates with custom QR codes and URLs. Measure results and gain valuable data.
Recognizing who each contact is by personalizing their mailings based on their interests and preferences can help your company build relationships and create new sales opportunities.
Get your business in front of customers and prospects using personalized mailings!
KKP offers personalized mailing solutions for businesses of all sizes throughout Canada. We are equipped to fulfill large and small orders. Using the data you've collected from customers and prospects, KKP will help you customize your messages. Contact our team today!
Check out our most recent articles about personalized mailings: