Point Of Sale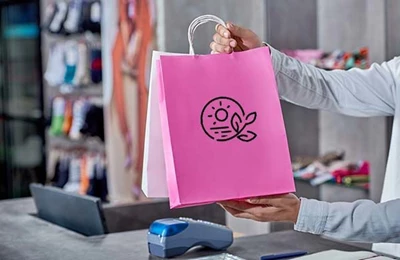 Capture more spur-of-the-moment purchases with motivating, eye-catching POS displays.
The importance of effective point-of-purchase (POP) displays and point-of-sale (POS) signage to retailers can't be overstated. Even in today's digital age, shoppers are more likely to purchase a good or service when they're in a store and at the point of sale than at any other place or time.
Research confirms that shoppers are planning less and deciding more while standing in the aisle of their local retailer. A study on shopper engagement revealed that the in-store decision rate has reached an all-time high of 76%.
So, how best to capitalize on this trend toward impulse purchases with POP marketing? Don't hesitate. Proceed directly to KKP, where you can take advantage of all the latest POS advertising solutions.
Increase the power of your POP marketing with POS banners, displays and retail signs.
With options including shelf-mounted signs, hanging posters, product display stands and more, there's sure to be a point-of-sale display or sign to meet the needs of your store, restaurant, special event or trade show booth. See us for:
Acrylic sign frames: These countertop options offer excellent flexibility in a larger size than our custom-printed table talkers and table tents. They allow you to insert updated signs between clear acrylic panels on a durable base. Some versions do without the acrylic panels and simply display your promotional posters on heavier, more sturdy paper stock that stands on its own.
Counter displays: Often the choice when retail floor space is limited, POS counter displays are especially effective in capturing last-minute buys when positioned near your cash registers.
Display stands: To present your merchandise in its most attractive light, select from standard or custom-designed point-of-purchase display stands. Designed for placement on floors, you'll select from end-of-aisle, in-aisle, floor stands, cardboard sidekick and power-wing POS displays.
LED lightbox displays: Backlit display frames with built-in light-emitting diode lights, our LED lightbox displays let you snap in a polyester film, flip the light switch and bring your POS display to life. The colours of your lighted POP display shine brightly!
POS banners: Our point of sale banners take many forms. Go big with a vinyl POP banner or fabric POS banner you'll hang on a wall or suspend overhead from a ceiling. Or, go smaller and portable. Our retractable banner stands, scrolling banner stands and X-frame banner stands take up a small footprint and are easily moved from one spot to another.
Table talkers or table tents: Put your POS advertising where prospects can hardly miss it – right in front of them at eye level when they sit down for a beverage or meal! You'll alert customers to your latest specials with our custom-printed table talkers and table tents.
Table-top retractable banner stands: Sized to attract eyes at sales counters, our custom-printed table-top retractable banner stands bring the benefits of retractable POS banners to more locations.
Need even more ideas on point of sale? When considering POP, think KKP. In a store or restaurant walk-through with you, we'll recommend ways you can capture more sales with effective and affordable point-of-purchase displays, graphics and signage.