Branded Business Gifts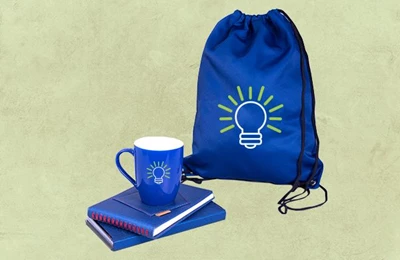 Surprise valued clients and recognize trusted employees with branded corporate gifts!
Are you looking for a perfect gift to send to your best clients? Or a captivating product to attract prospects? How about a thoughtful thank you gift for your employees? If the answer to any of these questions is yes, you've come to the right place.
The best way to reach your audience is with something useful that shows them you care about their needs. At KKP, we have compiled an assortment of timeless promotional products your business can use to feature your brand.
Whether used to establish client relationships, cement long-standing customer bonds, or acknowledge employee achievements, branded corporate gifts can be among the most effective ways to enhance the success of your business, organization, or nonprofit.
Our extensive selection of corporate gifts includes everything from practical pen-and-pencil sets and attractive golf shirts to elegant cut-glass drinkware sets and anything in between. Our company-branded gifts are perfect for any promotional campaign or corporate gift-giving opportunity. At KKP, we can accommodate our solutions to fit your unique business needs and budget.
Benefits
KKP's branded promotional gifts can bring multiple advantages to your operation:
Generate goodwill and future orders: Among new prospects and current clients alike, a well-considered corporate gift can create immediate feelings of goodwill. With all other factors being equal, it's often the most appreciate and thoughtful supplier that's first in line for a future cost quotation or new product or service order!
Strengthen company morale: Corporate gifts, such as branded apparel that are distributed company-wide, can improve workforce cohesion. If specific workers (or teams) are rewarded for an impressive accomplishment (e.g., Western region salesperson the year), they'll know their efforts are appreciated and become incentivized for future excellence. Retirement gifts not only acknowledge long service but also underscore the value an organization places on loyalty among current employees.
Enhance brand recognition: If well-branded and practical or attractive enough to gain notice, corporate gifts can improve brand recognition. They'll also serve as a reminder for recipients to contact you for additional business long into the future.
Opportunities to use corporate gifts
Placing your brand in the right hands will always bring you a great return on investment, and there is no better what to do that than with custom promotional gifts. If you need ideas to find the perfect opportunity to take advantage of your branded items, consider the following ideas:
Acknowledge large purchases or special orders
Send out giveaways to attract new customers and gain new sales leads
Reward customers and build stronger relationships
Celebrate holidays and other special occasions
Commemorate important milestones
Incentivize sales campaigns or other initiatives
Introduce new products or services
Honor retiring workers
Mark birthdays and anniversaries
Recognize significant achievements
Reward valued customers and suppliers
Salute generous donors
Support your referral or loyalty programs
Selection
At KKP, you'll choose from an excellent variety of corporate gifts to feature your brand. Rely on our executive gift pros to help you select the items that best meet your gift-giving strategies. We'll also recommend optimal ways to add your identification or messages:
Awards and recognition items
Bags
Branded apparel
Calendars
Drinkware
Executive gifts
Home and lifestyle gifts
Mugs and Drinkware
Outdoors and sports items
Personal accessories
For help in selecting and branding ad specialties to hand out at trade shows, distribute at special events, insert into envelopes or award as contest prizes, see our promo products.
KKP is the one-stop, full-service branding partner your business can rely on for all it's promotional products and services. If you are looking for a quote, contact us today!
Check out our most recent articles about branded corporate gifts: