Custom Canvas Printing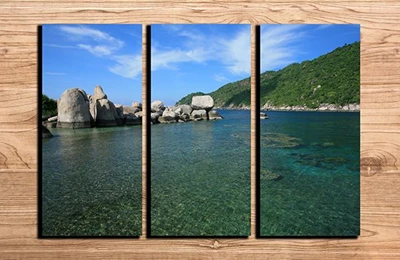 Make any photo a masterpiece by reproducing it on a custom canvas print
Printing on canvas can take any image and transform it into a piece of art. You'll have a graphic or design that's suitable for display in your lobby, conference room or executive offices.
The potential is versatile for canvas prints: turn a key product photo into a large canvas print, showcase a progression of historic label designs with a series of canvas posters, underscore your heritage with a framed canvas print of your first storefront, or display a wide panorama of the industry you serve.
One other huge positive for canvas printing? It's easy with KKP as your guide! We'll outline all your options and assist you every step of the way.
Bring in any photo, anytime, for an artful transformation onto canvas
With our canvas prints, you'll enrich the décor or enhance the branding of your office, store, restaurant or other facilities:
Reproduce images of your original facility, products, packaging and labels as well as historic blueprints, company founders and more
Replicate personal photos including family photos, wedding pictures, baby photos, ancestors, family homes or farms, cherished pets and more
Enlarge images to bigger, more eye-catching sizes including poster-size prints
Retouch images (if needed) to improve their appearance by making slight repairs or alterations
Print images on high-quality canvas in or black-and-white using the latest high-quality inks
Stretch the canvas over wooden frames to create gallery wraps that are easily mounted on walls
Select from photo wraps (which extend the image around the frame) or colour wraps (which feature a colour edge)
Frame the canvas print in your choice of frame styles (as an alternative to a gallery wrap)
Enhance your canvas prints with graphics or , such as dates, names or other captions
Rely on us for more than a few extras
Experts in all matters relating to canvas prints, look to your team at KKP to:
Choose multiple images to create a single photo collage
Create canvas prints in wide and impressive panoramic styles
Divide a single photo into two, three or four images for dramatic effect
Suggest ways to mount same-size or different-size prints on walls to enhance their presentation
Recommend methods to illuminate your canvas prints
Assist you with site assessment and measuring before starting
Mount your canvas prints on walls once they're completed
When it comes to canvas prints for your business, organization, nonprofit or family, go with the pros at KKP. In us, you have a team of graphic design and production experts who can add artistry to your imagery!