Floor Decals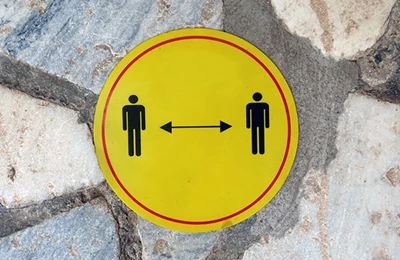 Step up your promotional and wayfinding efforts with custom floor decals.
Why limit your displays to walls, windows and doors? Stop prospects in their tracks by putting your messages where they don't expect to see them: right at their feet, with floor decals from KKP.
These slip and scuff-resistant vinyl floor decals are durable and easy to position at the outset and simple to remove once finished.
We can create for you one-of-a-kind floor decal designs in vibrant colours. Businesses, organizations, and nonprofits employ them to extend their branding throughout their location.
Take advantage of simple floor graphics to display your logo, promotional messages or directional graphics, or try large floor decals to enhance your advertising displays. For example, you can install a wall-to-wall floor mural replicating a lake for a whole area where you want to showcase this season's line of watercraft.
Take advantage of the branding power of floor graphics from KKP. Use them to:
Alert shoppers to new products or sales
Cover an entire floor with a mural of a beach, the clouds, etc.
Decorate floors with graphics or photos at special events
Define areas such as trade show display "footprints"
Direct visitors to checkout lanes, displays or departments
Display team mascots on hardwood basketball courts or school hallways
Mark dance floors at weddings or other occasions
Reinforce your brand identity by displaying logos and corporate colours
Route vehicular traffic in parking lots and parking structures
Warn workers of restricted zones or forklift traffic
Depending on your needs, our custom floor decals can be printed in a wide range of materials and sizes. Our removable floor decals can be applied to almost any indoors or outdoors surface including:
Asphalt vinyl floor decals
Carpet floor sticks
Concrete floor decals
Hardwood vinyl floor decals
Tile floor signs
Vinyl floor graphics
Make a statement with KKP's original floor decals!
Are you looking for creative floor decals for your business? Contact the professionals at your local KKP. To ensure you get the results you want, we offer site assessments to help you determine the best placement, take measurements for accuracy, and help you with the application.
Check out our most recent articles related to floor decals: