Custom Posters and Banners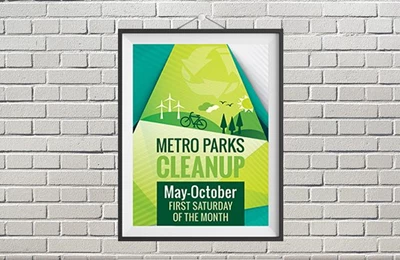 Display eye-catching posters and banners anywhere and watch your sales grow!
There's a good reason why posters and banners have long been a promotional must-have for advertisers: they work! As big and bright and bold as you need them to be, custom posters and one-of-a-kind banners capture attention to support your promotional, informational or directional goals.
Having been around so long, there's a custom banner or mounted poster for just about any purpose and every budget. Use them indoors or outdoors, and in support of one-time special events or longer-term promotions.
As your business needs change, so will your signage needs. Both posters and banners are ideal to use as temporary directional or safety signage. You can use posters to communicate new safety procedures, hours of operation or even seasonal promotions. Banners, on the other hand, are highly visible and great for communicating short messages; many businesses use them to attract passerby to their business.
But where to turn for attractive, affordably priced posters and banners? That's easy: KKP. We combine creative custom designs with the latest larger-format printing expertise for the benefit of anyone in need of these advertising solutions.
KKP is your one convenient source for all types of posters, from motivational posters to propaganda posters, you can rely on our high-quality capabilities. Experienced in all aspects of graphic design and production, we can assist you with custom posters for any application. Our solutions include:
Poster prints: Showcase product photos, graphics, key statistics, or talking points with our poster prints. Offered in a variety of sizes, you'll choose from matte or glossy finishes on papers of all weights and price points
Photo posters: These posters are the choice when displaying a more permanent message or if seeking to enhance the décor of your lobby, office, store, or restaurant. A gloss finish will make your custom poster colours "pop" while a satin finish will help reduce glare. Most of our photo posters come complete with hanging hardware.
Laminated posters: Lamination helps protect your poster for longer-term applications. A thick poly coating makes them last longer. The lamination also offers an attractive, glossy sheen and delivers UV protection against sunlight-inducing colour fading.
Mounted posters: Wall posters are backed by sturdy foamboard to enhance their display. They are ideal for presentations on easels such as at sales presentations or conferences. (Note: Poster prints and photo posters can be both mounted and laminated.)
Select from a full array of custom-designed banners for any occasion. Whether you are looking to promote your business, increase brand recognition, or celebrate a milestone, banners are the right solution to grab people's attention.
KKP is your one-stop resource for personalized banners of all types. If you need help designing, printing, measuring, installing, or even taking down a banner, you can count on us. Call us to schedule a site assessment; our experienced team will provide recommendations to help you get the results you want.
Our custom banner printing solutions include:
Fabric banners: Prized for their high-quality printing and accurate image reproductions, fabric banners are often used indoors where viewing distances are often closer than outdoors. That said, custom printed banners in heavier weights of fabric are gaining use in more out-of-door applications.
Mesh banners: Considering hanging a custom banner in a breezy area? Our mesh banners are the way to go. Perforations make these printed banners wind resistant.
Printed banners and banner stands: In many areas you'll find a ceiling, fence, or wall from which to hang your banner. In other situations, banner stands are the answer. Readily portable, they let you position your custom banner wherever it will gain the most attention — most often at stores, trade shows, and other events. You'll choose from types including retractable banner stands, scrolling banner stands, and X-frame banner stands.
Vinyl banners: The most popular banner choice for use indoors and outdoors, vinyl banners are durable, come in varying weights or thicknesses, and are offered in gloss and matte finishes. Tip: A gloss finish is often preferred for external applications. It's considered more attractive as wind-borne dust doesn't adhere well to the slick surfaces of custom printed banners in vinyl.
Need assistance in selecting or designing a custom poster or banner that's best for your application? Experienced in all aspects of these hard-working signage options, the team at KKP will help you get the hang of them!
Check out our most recent articles about banners and posters: