Vehicle Graphics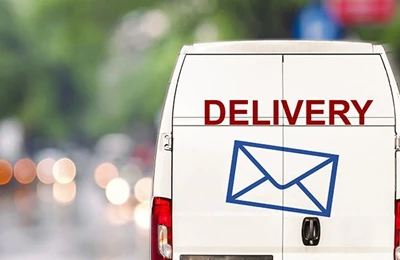 Promote your business all over town with custom vehicle graphics!
Whether you operate one vehicle or a fleet of one hundred, vehicle graphics from KKP can put your promotional messages directly in front of your prospective customers and increase brand visibility. Cover your vehicle with custom wraps or vinyl lettering to attract customers and increase brand awareness while you drive in your community.
Vehicle graphics are an important tool for businesses of all sizes. They provide a variety of different solutions which is why companies that derive the bulk of their business locally can increase brand exposure and awareness with auto graphics all year long. As a matter of fact, the life cycle of high-quality vehicle graphics can be anywhere from three to five years.
Vehicle graphics and wraps can also help protect your cars and trucks. That's right: they won't damage your vehicle's paint. Instead, they work as an additional protective layer. The vinyl material used for auto decals is strong enough to protect from small scratches, minor dents, and even harsh weather conditions.
Another good reason for putting your marketing in motion? Economy. One industry study says that vehicle graphics can be the most cost-efficient form of out-of-home advertising. It reports that car signs, truck graphics, trailer wraps, and the like reach consumers at a lower cost-per-thousand impressions than other media.
With vehicle graphics, almost anything that moves can become your mobile billboard. You'd naturally think of cars, trucks, and trailers when considering vehicle graphics. But, almost anything that rolls, floats or flies can be custom branded with your company name, logo and message by KKP:
Aircraft
Boats
Buses
Cars
Food trucks
Golf carts
Limousines
Motorcycles
Personal watercraft (e.g., Jet Skis®, Sea-Doos®, etc.)
Pickups
Snowmobiles
Trailers
Trucks
Vans
Big, medium or small — there are many great ways to go with vehicle graphics
Custom vehicle graphics from KKP can be as large as a full wrap complemented by window graphics, or as small as a decal. Consider these choices:
Full vehicle wraps: With a full wrap, the entire vehicle is covered in a thin layer of vinyl that displays your graphics in vibrant colours. They adhere firmly but are not permanent. When it comes time to take your vehicle out of service, fleet graphics come off easily. That's why operators of leased cars and trucks give auto graphics the green light!
Partial wraps: As the term implies, partial wraps typically cover 25-75% of a vehicle's surface. With this custom designed solution, our graphic designers integrate your original paint colour into your custom vehicle graphic design.
Window graphics: Many mobile marketers combine window graphics with their vehicle wraps for maximum promotional impact. The rear window and some side windows can be wrapped in perforated-vinyl designs that allow partial visibility.
Decals: Custom car decals, custom truck decals, and similar solutions are designs printed on vinyl that adhere to your car, truck, or trailer's surface. Use this vehicle advertising for smaller applications such as your company's logo or selected graphics.
Other options: Looking for alternate ways to promote your business with vehicle advertising? Our solutions include vinyl vehicle lettering and numbers. They also extend to car-top magnetic signs and door-side magnetic signs.
Even when parked between deliveries or service calls, vehicle graphics can serve as additional onsite signage at your place of business!
At KKP, we can help you produce professional vehicle graphics. Our experienced team assists with everything, from design to installation to ensure you get the results you are looking for. Contact us to take advantage of the benefits of these "24/7" promotional graphic solutions.
Check out our most recent articles about banners and posters: